Think Act Be, hosted by Seth J. Gillihan, PhD
Ep. 143: Dr. Judith Rusky Rabinor – How to Make Peace with Our Mothers
My guest this week is Dr. Judith Ruskay Rabinor, a psychologist who recently wrote a memoir about making peace with her mother. We talked primarily about the mother-daughter relationship, but these are issues that are relevant for all parents, and for both daughters and sons. Judy has a wealth of knowledge and experience that she shares in this episode, including specific techniques for healing our relationships. And she's confident that it's never too late to make peace with our mothers. Listen to the entire episode here.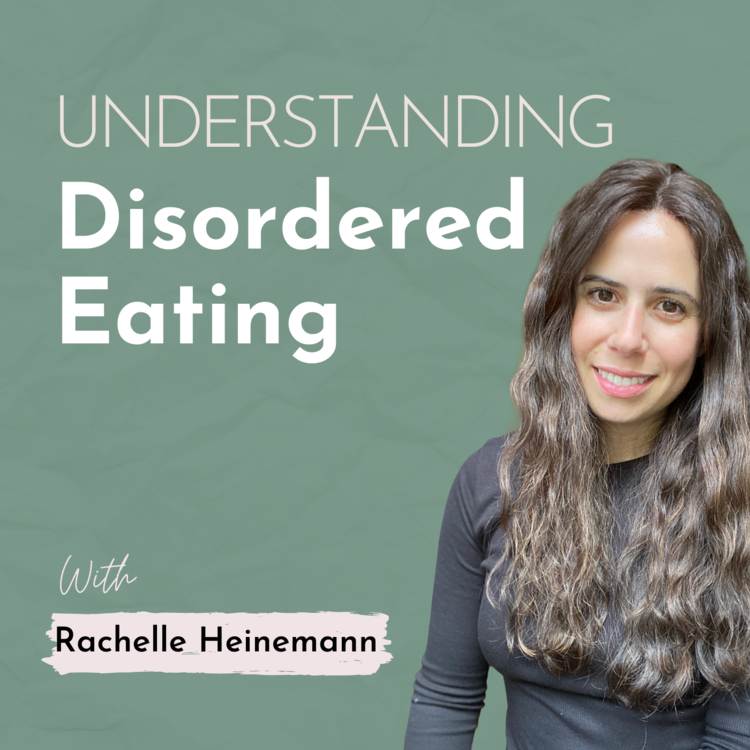 Mothers and Daughters with Judith Ruskay Rabinor Ph.D.
Today, Judith Ruskay Rabinor and I dive into this loaded topic. If you don't know Judy, she is a clinical psychologist, author, speaker, and supervisor at CSAB (Center for Study for Anorexia and Bulimia in NYC). She's a therapist for individuals, couples, and groups.
Judy has written several books, including A Starving Madness: Tales of Hunger, Hope, & Healing in Psychotherapy; Befriending your ex after divorce: Making life better for you, your kids, & yes, your ex; and The Girl in the Red Boots: Making Peace with My Mother. Need I say more about this awesome woman?
You already know that the mother-daughter relationship can be incredibly complex. Judy and I will break down why it's complicated, how your relationship with your mom affects you, and what to do about it to make a change today.
BONUS: We'll chat about how this all comes into play when the daughter becomes a mom herself. We will just scratch the surface on this topic, so we'll plan to do a follow up soon. Join the newsletter to stay up to date on when part 2 comes out!
---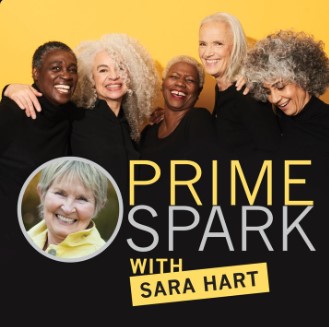 The Girl in the Red Boots: Making Peace with My Mother with Dr. Judith Rabinor
Prime Spark Podcast with Sara Hart
Dr. Judith Ruskay Rabinor is a clinical psychologist, author, speaker, and consultant. She has an active psychotherapy practice and also runs writing workshops. She has had an amazing background including working with 9-11 survivors and mental health providers in Uganda. We had such a fun discussion. You will love listening to Judy.
Listen here.
---

All Bodies, All Food Podcast
Available on January 5, 2023
All Bodies, All Foods, a podcast by The Renfrew Center, covers topics related to eating disorders, body image and mental health. At The Renfrew Center we believe true healing exists through community. Because of this, we created a space for all bodies to come together authentically and purposely to discuss various areas that impact us on a cultural and relational level. Join hosts Samantha DeCaro, Ph.D., (she/her) and Ashley Vicari, NCC, LPC, (she/her) as they sit down with different experts in the field and those in recovery. We would love for you to join us on this journey, let's learn together!
On January 5th, you can listen here.
---
The Codependummy Podcast hosted by Marissa Esquibel, MS, LMFT
Codependency in Mothers and Daughters with Dr. Judy Rabinor

Aired Sept. 26, 2022
-How can loving baby girls turn into codependent daughters with their mothers?
-What messages do we get from our mothers that lead us to be passive, subservient, and conflict-avoidant?
-What are the initial steps we can take to heal our relationship with our mothers?
3 ways to listen!
Apple: https://podcasts.apple.com/us/podcast/codependency-in-mothers-and-daughters-with-judith/id1550681775?i=1000580627058
Spotify: https://open.spotify.com/episode/2Ie1X6NWElsSVNZPXXnYZv?si=xYduPXK5RWSaE-Edtrbmfg
YouTube: https://youtu.be/C5L2uc9onFk
---
OUR MOTHERS, OURSELVES: PART ONE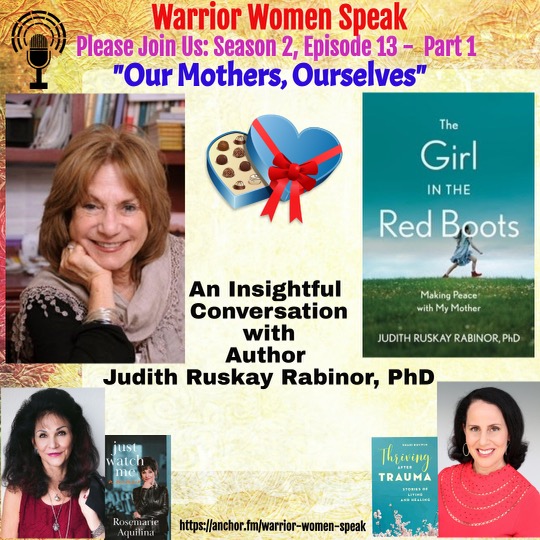 Warrior Women Speak: With Judge Aquilina and Shari Botwin, LCSW
Judith Ruskay Rabinor, PhD whose latest book: The Girl in the Red Boots is our special Mother's Day guest. Join us in this two part series where we discuss and share our various journeys with our mothers. Judith's story with her own mother couldn't be told for years after her mother passed but through her writing she healed and was finally ready to share her story to help others. Reconciling the relationships we have with our mothers allows us to release anger and gain compassion and insight for ourselves and our mothers. The views we have as children morph and evolve while we grow into adults, raise our own children and watch our parents decline. The journey can be haunting or uplifting, it can change you in ways you've never thought possible. The Girl in the Red Boots describes such a journey and talking with Judith brings to the forefront the need for exploration, understanding and healing.
Listen here.
---
The Story Talks Back Podcast hosted by Dave Stanton
Dr. Judith Rabinor is the author, most recently, of the powerful memoir "The Girl in the Red Boots: Making Peace with My Mother." As a psychotherapist practicing in New York City, Dr. Rabinor has made mother/daughter relationships one of her specialties — but she still faced big challenges in coming to terms with the complex legacy of her own Mom. In this timely excerpt from our forthcoming full interview, Dr. Rabinor talks about coming to terms with her mother's refusal to acknowledge negative feelings of any kind — an emotional armor that felt almost impenetrable at times.
Listen here.
---
Woman Around Town
Judy Ruskay Rabinor Talks About Making Peace with My Mother
May 4, 2021 Interview by Esther Cohen
For many, Mother's Day is a bittersweet holiday, the pressure to celebrate – exacerbated by a commercial juggernaut that pushes cards, flowers, and gifts – conflicting with feelings of suffering, anger, guilt, or regret. Those emotions may be even more difficult to reconcile for those whose mothers are no longer living.
Judith Ruskay Rabinor understands those sentiments. Her latest book, The Girl in the Red Boots: Making Peace with My Mother follows her very personal journey to reconcile with her own mother who died ten years ago. Rabinor knew her mother's love, but she also felt wounded at times. Writing this book proved to be cathartic.
Read complete interview here.
---
The Mind, Body & Soul In Healing Podcast, hosted by Harvey Schwartz MD
Episode 29: Mothers, Daughter, and Food, with Judith Rabinor, PhD
"We begin by appreciating that Judy's memoir speaks on three levels – her tumultuous history with her mother, her therapeutic work with eating disorder patients, and her own maturation as a woman. She describes multiple examples of her mother's painful betrayals of her, both as a child and as an adult. Judy shares that initially she was without the capacity to empathize with her mother's own struggles which contributed to her mother's pollyannish character style. Judy's own growth allowed her to bring her nuanced attentiveness to her clinical work which she presents in some detail. We discuss the ways that identifying with one's patients can be both a help and a hindrance in creating the unique attunement that is essential for meaningful psychotherapy. We close by recognizing how she has utilized her personal story as a vehicle of healing for the many lives she has touched."
Listen to the entire episode here.
Take One: Yevamot 30
Today's (April 6, 2022) Daf Yomi page, Yevamot 30, grapples with divorce, and when it is and isn't truly final. Author Judith Ruskay Rabinor joins us to offer some concrete insights and reflections on what to do and not to do when a marriage ends. Can you still stay friends with your ex? Listen and find out. https://adbl.co/3DK1eI4
Iaedp Foundation Information – Friday, March 25, 2022 @ 4 pm ET
Treatment Ruptures as Opportunities: Healing Strategies for Families
A workshop focusing on working with families
Family issues often become exacerbated in the treatment of eating disorders. Ruptures can arise from misattunement, ineffective communication and boundary violations. This workshop will teach participants how to anticipate, address and use ruptures in family healing. Using didactic, clinical, and experiential material, Integrative Interpersonal strategies will be demonstrated that allow for symptomatic reduction and relational growth. There will be a focus on symptom reduction, affect regulation, mindfulness, and the use of self-disclosure on the part of the therapist to resolve therapeutic rupture and to recognize and identify longstanding problematic relational patterns.
Details can be found on the iaedp website here: https://iaedp.confex.com/iaedp/2022/meetingapp.cgi/Session/5087
You can register here: https://iaedp.site-ym.com/event/symposium2022
Power Your Parenting: Moms With Teens, January 10, 2022
Listen to the interview here.
The Happy Women's Virtual Book Club, November 2, 2021
The Patricia Raskin Show on VoiceAmerica, November 1, 2021
Avaiya University's Summit on Toxic Relationships- October 18th – 24th, 2021
Book Signing of The Girl in Red Boots: Making Peace with my Mother, October 15th, 2021
Westsider Books & Westsider Records
Hewlett Woodmere Public Library, October 13th, 2021
Gwenn Kudler ASCW – Private Book Club, October 12, 2021
Authentic Parenting Podcast, September 24, 2021
https://traffic.libsyn.com/secure/authenticmoments/01_The_Complicated_Mother-Daughter_Relationship.mp3
Think Act Be Podcast, July 29, 2021
https://player.fm/series/think-act-be-podcast/ep-143-dr-judith-ruskay-rabinor-how-to-make-peace-with-our-mothers
Issues Today Radio, June 28, 2021
https://issuestoday.libsyn.com/issues-today-21-27
Conversations Live with Cyrus Webb on Blog Talk Radio, June 28, 2021
https://www.blogtalkradio.com/conversationslive/2021/06/28/dr-judith-rabinor-talks-thegirlintheredboots-on-conversationslive
Healing Our Primal Invisible Wounds: Journeying to Wholeness with Dr. Judith Ruskay Rabinor & Dr. Patti Ashley, Harvesting Happiness Podcast on June 24, 2021
https://podcasts.apple.com/us/podcast/healing-our-primal-invisible-wounds-journeying-to-wholeness/id405336362?i=1000526556167
ED Catalogue, Episodes 244 and 245, June 19, 2021
Thrive Global: "Judith Ruskay Rabinor: 'Relationships are Complex' by Ben Ari, June 3, 2021
https://thriveglobal.com/stories/judith-ruskay-rabinor-relationships-are-complex/
Frankie Boyer Show, June 2, 2021
https://podcasts.google.com/feed/aHR0cHM6Ly93d3cuc3ByZWFrZXIuY29tL3Nob3cvMzI0MDA2MS9lcGlzb2Rlcy9mZWVk/episode/aHR0cHM6Ly9hcGkuc3ByZWFrZXIuY29tL2VwaXNvZGUvNDUxMjgyMTQ?sa=X&ved=0CAUQkfYCahgKEwioieigj_fxAhUAAAAAHQAAAAAQigo
Brainwaves Video Anthology, May 14, 2021
Connecting Paradigms: Trauma-Informed Lens Podcast: "Dr. Rabinor Joins the Show to Talk about her New Book, Eating Disorders, and How Trauma Informs her Practice," May 12, 2021
https://connectingparadigms.org/blog/podcast/dr-rabinor-joins-the-show-to-talk-about-her-new-book-eating-disorders-and-how-trauma-informs-her-practice/
Recovery Bites Podcast — Karin Lewis, MA, LMFT, CEDS, and Judith Ruskay Rabinor, Ph. D. on The Girl in the Red Boots, May 10, 2021
https://karinlewisedc.com/podcast/episode56
Book Q&As with Deborah Kalb, May 7, 2021
http://deborahkalbbooks.blogspot.com/2021/05/q-with-judith-ruskay-rabinor.html
Dr. Michelle Maidenberg, May 6, 2021
Women Around Town, May 4, 2021
The Backpack Show — Kerry Gorgone and Judith Ruskay Rabinor, Ph. D. discuss The Girl in the Red Boots, April 28, 2021
Command the Courtroom — Wendy Hernandez and Judith Ruskay Rabinor, Ph. D. discuss The Girl in the Red Boots, April 26, 2021
Authority Magazine — Interview on April 24, 2021
https://medium.com/authority-magazine/author-judith-ruskay-rabinor-the-brain-has-velcro-for-bad-experiences-and-teflon-for-the-good-bc4edd1f6350
Access to Democracy — Allan Miller interviews Judith Ruskay Rabinor, Ph. D.
LA TALK RADIO – "Dr. Debra" Mandel Interviews Judith Ruskay Rabinor, Ph.D.
SHOW HIGHLIGHTS
11:23-15:12 – The importance of prioritizing the well being of your children and learning to take the high road when dealing with your ex.
19:09 20:40 – Recovery involves grief- I emphasize the the importance of grieving
23:23-25:50 – Another important healing step is recognizing the worth of your ex as a person: probably your ex wasn't all bad.
---
Judy Rabinor interviewed by Wendy Hernandez on Guilt after Divorce
---
Michelle Skeen interviews Dr. Judith Ruskay Rabinor, PhD. for "Relationships 2.0" Podcast
---
TV Show Interview by Kathryn Raaker
---
Dr. Rabinor on The Oprah Show
---
Dr. Rabinor on 'Hungry to be Heard'

In the last decade, the epidemic of eating disorders has increased in the Jewish community. See Dr. Rabinor exploring this problem on this documentary: Hungry To Be Heard: Eating Disorders in the Jewish Community
---
Sally Jessy Raphael featuring Dr. Judith Rabinor: Mothers and Daughters
---
Dr. Rabinor at a Barnes and Noble Event