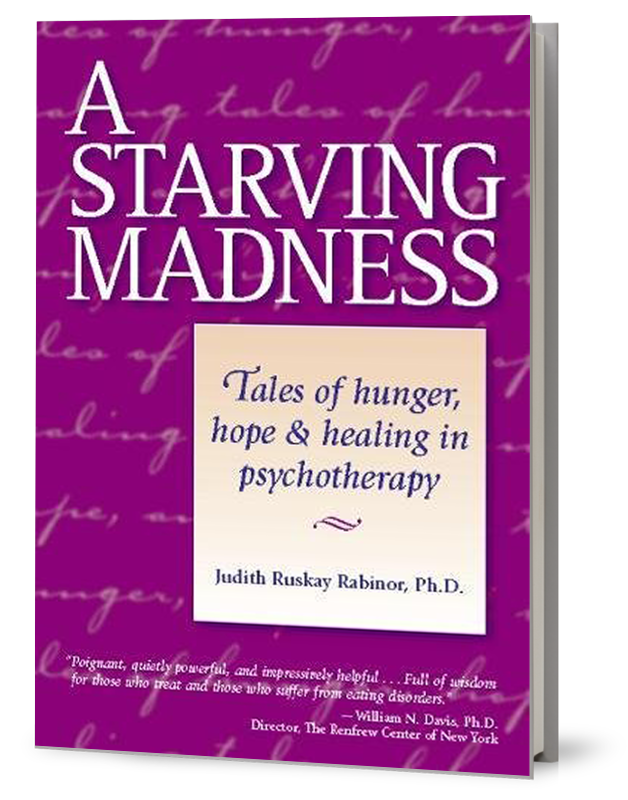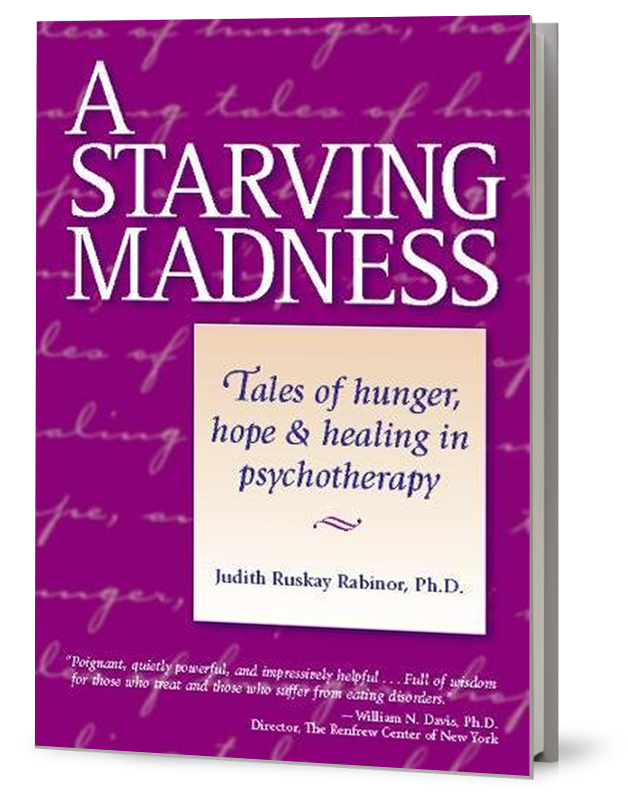 A Starving Madness: Tales of Hunger, Hope and Healing in Psychotherapy
Eating disorders are crippling psychological problems and often have deadly consequences. This volume of eight  compelling tales  (seven women and one man) are a revealing look at the complexity of anorexia, bulimia and binge eating, revealing the process of psychotherapy, and the healing power of the relationship between therapist and client.
Sufferers, their loved ones, and caregivers will benefit from the insights provided in this beautifully written collection of stories. Since publication, the book is used in universities, psychotherapy training programs high schools and reading groups.
Buy the Book | Download the Reader's Guide | Read an Excerpt Here
---
Read Reviews
"Dr. Rabinor has a flair for storytelling and offers a ray of hope for girls, women, and an increasing number of boys and men who are dying to be thinner than ever."
–Ron Taffel, Ph.D. Author of The Second Family: How Adolescent Power is Challenging the American Family
"Judy Rabinor gives us a soulful glimpse into the hearts and minds of individuals who struggle with eating disorders. She also shows us how the therapist, too, struggles when engaged in the process of healing these life-threatening conditions."
–Kathryn J. Zerbe, M.D. Author of The Body Betrayed
"These tales combine the lived experience of eating disorders, sound clinical explanations, and helpful information about these conditions, their origins, and their resolution. The stories show how a caring, consistent, and deep connection between therapist and patient heals the disconnection of earlier critical relationships and experiences."
–Margo D. Maine, Ph.D. Author of Body Wars: Making Peace with Women's Bodies
"The stories of hunger and isolation, of despair and self-rejection so vividly recorded in these pages carry a powerful, compelling message of hope. A Starving Madness should be read by all professionals who work with clients with eating disorders and by all people who have ever struggled with the complexities of trauma, and the essential human task of caring for oneself and others."
–Judith Jordan, Ph.D. Assistant Professor of Psychiatry, Harvard Medical School
"In this fascinating book, Dr. Rabinor sensitively portrays the complexity of the therapeutic relationship and demonstrates the role of empathy, creativity, and interpersonal psychotherapy methods in the effective treatment of eating disorders."
–Ann Kearney-Cooke, Ph.D. Distinguished Scholar, Partnership for Woman's Health, Columbia University, New York
"An intimate peek at what really happens in the therapy room… Rabinor reaches beyond the everyday struggles and turmoil of her patients and delves deep into their souls."
–Marion Bilich, Ph.D. Author of Shared Grace: Therapists and Clergy Working Together
"In these poetic stories, Dr. Rabinor paints for us a lyrical and moving picture of the therapeutic relationship. Her writing is haunting, challenging, and ultimately uplifting. For anyone intrigued by the process of change, this book will add to one's inspiration and wonder."
–Judith Brisman, Ph.D. Author of Surviving an Eating Disorder: Strategies for Family and Friends
"Poignant, quietly powerful, and impressively helpful… Full of wisdom for those who treat and those who suffer from eating disorders."
–William N. Davis, Ph.D. Director, The Renfrew Center of New York