Writing has always been a personally enriching experience for me, whether I'm journal writing or putting together a short article, a chapter, or a book. Joining up with She Writes Press, the publisher of my latest book, The Girl in the Red Boots: Making Peace with My Mother offered me an unexpected gift: Besides publishing my book, they connected me to an inspiring community authors.
Just yesterday Kim Fairley published a new memoir, Swimming for My Life, documenting her traumas in the ultra competitive world of swimming, in the midst of daunting struggles at home. While childhood neglect and trauma are not a new story, one thing that pulled me into conversation with Kim was the topic of immature parenting – this was a familiar experience to both of us. And what pulled both of us to Julie McGue, author of the adoption memoir, Twice a Daughter: A Search for Family, Identity, and Belonging was that all of us believe that storytelling helps us make peace with what is…not what was and not what could be.
Kim, Julie and I will be presenting a panel at book fairs: Making Peace with Your Imperfect Mother, Anyway. From three different daughter vantage points, each of suffered. Each of us felt neglected, by our mothers, either concretely or emotionally, generally unintentionally. But all three of us had an impulse to make pace with our mothers, anyway. Hence the title, Making Peace with Your Imperfect Mother, Anyway. If you're interested in bringing our panel to your community/mental health center, for a day of learning, training or fun, please email me for details.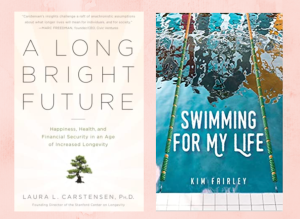 A Long Bright Future (available here)
Swimming for My Life (available here)