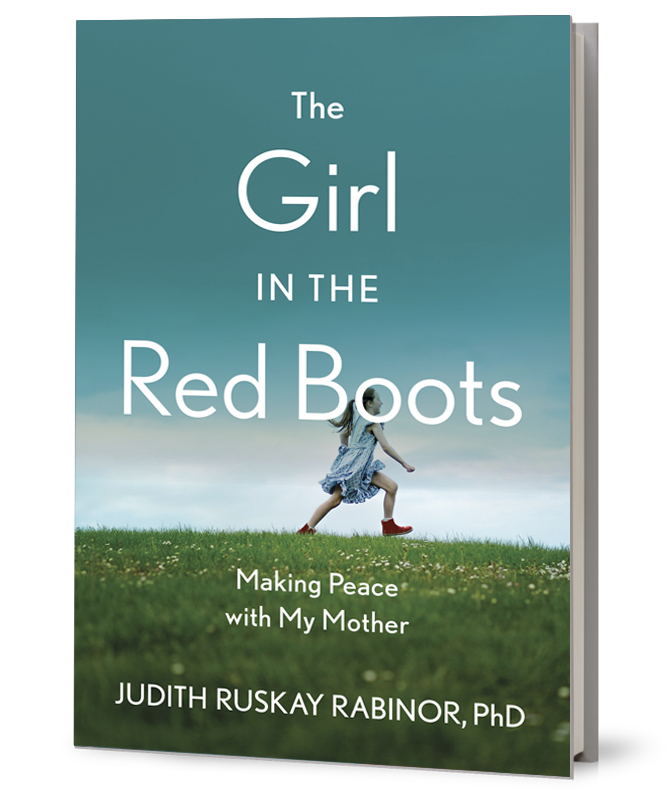 The Girl in the Red Boots: Making Peace with My Mother
Although "maddening mother problems" are universal, the majority of adult women describe their relationship with their mother as one of the most important—and one of the most complicated in their lives. I'm a psychologist with expertise in working with mothers and daughters. Like many other therapists, my own unhealed wounds pulled me into my specialty. I've spent several decades helping women mine their mother-stories, mend their wounds and find peace, freedom, and joy.
While you didn't pick your mother, as an adult you now have the opportunity to choose your path as a daughter. Stories are great teachers, these tales from my office and my life will hopefully help you untangle your stuck places, develop compassion for yourself (and possibly your mother as well), and celebrate a connection you thought doomed to disappointment and hurt.
OUT NOW!
---
Praise for The Girl in the Red Boots
"This is an introspective work . . . a fascinating examination of how daughters make peace with their moms."
―Kirkus Reviews
"In this engaging book, Rabinor reflects on the most complex, intense and important of all relationships, the one between mothers and daughters. She shares the story of her journey from pain and anger to acceptance and gratitude and explores the journeys of other mothers and daughters too. Rabinor's professional work with eating disorders has given her a unique vantage point on these most timeless of stories. Her book is candid, fresh and inspiring."
―Mary Pipher, author of Women Rowing North and Reviving Ophelia
"The complex relationship between mothers and daughters is brought vividly to life as Rabinor, a psychologist who specializes in mother-daughter relationships, weaves together stories from her office and her life. As she helps others, she sorts out a lifetime of her own unresolved feelings. A riveting read that reminds us that parenting is fragile, love is always flawed and it's never too late to understand ourselves and our mothers."
―Jane Goldberg, author of The Dark Side of Love
"Mother loss comes in many different forms, as Judy Rabinor explores in this affecting story of the fractured, flawed mother-daughter relationship that entangled her for decades. As a long-time psychotherapist, Rabinor is an expert on grief and healing. As a daughter, she longed for a deeper connection with a mother whose imperfect love, ultimately, left her with valuable gifts and insights to share. Both of those threads make The Girl in the Red Boots a unique and valuable contribution in the bereavement field."
―Hope Edelman, New York Times best-selling author of Motherless Daughters, Motherless Mothers, and The Aftergrief
"Dr. Judy Rabinor is not only a master clinician and teacher but also an extraordinarily gifted weaver of a tapestry of healing. The Girl in the Red Boots beautifully illustrates how our own wounds and vulnerabilities can truly inform and inspire our work with our clients. And it also reveals all the ways our clients' journeys can inform and inspire our own healing and recovery. But this book is not simply for psychotherapists and their clients. It's a book for all mothers and daughters everywhere. Actually, speaking as a son and a father, it's a book for all of us. Read it. It will open your heart."
―David Treadway, PhD, author of Treating Couples Well: A Collaborative Guide to Collaborative Family Therapy
"A compelling read. The Girl in the Red Boots delves into things often not spoken of by therapists. Judy works, thinks and shares perspectives outside the box. Readers are left with a beautiful reminder that giving respect and compassion. To others' pain makes just a bit easier to give it to your loved ones and yourself."
— Carolyn Costin, founder of The Carolyn Costin Institute and author of 8 Keys to Recovery from an Eating Disorder
"Dr. Rabinor cuts through the common misunderstandings of therapy in an intimate sharing of her work and her life issues; she meets her patients pain for pain. Reading the insights of this wounded healer about the lingering effects of childhood trauma, I nodded in agreement, dazzled."
―Jesse Kornbluth, author and screenwriter
"In this captivating book, Dr. Rabinor lifts the therapeutic veil, revealing her own growth and healing while working with clients' mother-daughter conflicts. She gently guides the reader to discover what happens when one expresses pent-up love rather than pent-up anger. Immersing myself in The Girl in the Red Boots felt like entering a secret sorority where the tensions and conflicts of my own relationship with my mother were soothed by the insight, wisdom, and compassion Dr. Rabinor provided. The result―an enhanced appreciation and longing for my own mother. This is a must-read for anyone who has or is a mother!"
―Dr. Amy Banks, co-author of Wired to Connect: The Surprising Link Between Brain Science and Strong, Healthy Relationships, founding scholar at the International Center for Growth in Connection (ICGC), and senior scholar at the Wellesley Centers for Women
"Dr. Rabinor's impeccable storytelling ability makes for a riveting journey as she pivots between complex client cases and the processing of both ordinary and extraordinary moments in her own life. The memoir also provides non-clinicians with a beautiful mode for holding seemingly contradictory feelings about loved ones; her compassionate authenticity normalizes and celebrates this reality of the human experience."
―Katie Rickel, PhD, CEO of Structure House
"Read this book slowly. Your own mother will seep into the pages . . . and you will want to push her away. Judy's story helps us look deeply at our own mothers, to see what we may have missed, to quiet our anger. She helps us start to forgive. The Girl in the Red Boots is a compelling read―a story not just about the author and her patients but also about you."
―Judith Brisman, PhD, author of Surviving an Eating Disorder: Strategies for Family and Friends
"I applaud Judy Rabinor for giving women permission to examine their mother-daughter relationships. Through sharing and weaving her own mother-daughter story with those of clients, Judy explains how we can forgive hurtful and hindering imperfections and re-story painful experiences with love and compassion. This book shows it is never too late to widen our lens and grow through healing our childhood wounds."
―June Alexander, PhD, author of A Collaborative Approach to Eating Disorders
"The Girl in the Red Boots is a deep and beautiful memoir. Judy Rabinor draws you into your inner world as she explores love and healing in her relationship with her mother. A must-read!"
―Judi Goldstein, MSS, LSW, vice president of The Renfrew Center Foundation
"This heartfelt journey into the mother-daughter relationship touched me deeply as a mother, a daughter, and a therapist. Highly recommended for any woman with a desire to understand herself more fully."
— Hilary Jacobs Hendel, author of It's Not Always Depression
"Master therapist Dr. Judy Rabinor reveals the hidden workings of eating disorders, the secrets of great psychotherapy, and the mysteries of the mother-daughter relationship- a rare gift! Hers is a book that might well change your life."
— Ron Taffel, PhD, author of Breaking Through to Teens
"The Girl in the Red Boots is a treasure. Judy Rabinor is a gifted storyteller and an expert clinician. The book sings with personal growth, cross-generational love, and contagious hope."
— Michael P. Levine, PhD, fellow at Academy of Eating Disorders, Professor Emeritus, Kenyon College, and author of The Prevention of Eating Problems and Eating Disorders
"A poignant and unique mother-daughter story full of revelation. As she helps her patients to heal, this talented writer and therapist heals herself and gives us the ability to do the same."
―Deborah Burns, author of Saturday's Child
"The Girl in the Red Boots is delicious. This book is about personal growth over a lifetime. It's about healing as a never- ending process. It's about the fallacy that good therapy requires people to express their anger and disappointment to heal. A feast for the heart and soul, and a must read for all."
―Margo Maine, PhD, author of Pursuing Perfection: Eating Disorders, Body Myths, and Women at Midlife and Beyond (with Joe Kelly) and Father Hunger
"Judith Rabinor proves Socrates right when he said 'an unex- amined life is not worth living.' Switching roles, from therapist to client, Dr. Rabinor mines her own complicated relationship with her mother to show that memories that might seem trivial are actually essential in understanding what drives us."
―Charles Salzberg, author of Second Story Man, award-winning novelist and journalist
"Unlike memoirs of cataclysmic abuse, Judy's story is sure to resonate with the stress and distress of your own life."
―Sondra Kronberg, MS, Founder, Chats in the Living Room at EDTC/FEED
"A compelling, deeply personal book about the complexities of the mother-daughter relationship. A gifted storyteller, Judith Rabinor skillfully reveals the healing power of story."
―Anita Johnston, PhD, author of Eating in the Light of the Moon: How Women Can Transform Their Relationships with Food Through Myths, Metaphors, and Storytelling
"I gained insight and optimism about the possibility of transformation and change through reflection and owning our own story."
―Ann Kearney Cooke, PhD, author of The Life You Want: Get Motivated, Lose Weight and Be Happy